Podcast: Play in new window | Download
Subscribe: Apple Podcasts | Android | RSS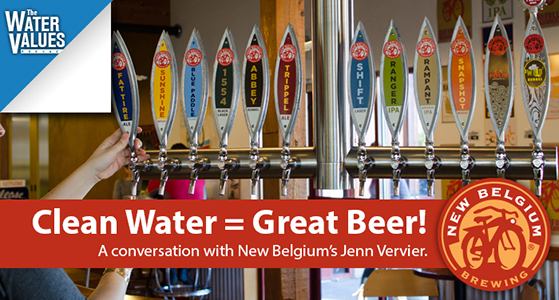 In the third session of The Water Values Podcast (and first recorded), I welcome Jenn Vervier, the Director of Sustainability and Strategic Development for New Belgium Brewery in Fort Collins, Colorado. Jenn shared a tremendous amount of information about New Belgium's conservation and sustainability efforts as they relate to direct and indirect use of water in the brewing process, to the water-energy nexus, and to society in general. She provided a fantastic interview and displayed great knowledge of New Belgium's water processes and substantial efforts on the water sustainability front.
In this Session, You'll Learn about:
New Belgium's sustainability focus and unique and refreshing approach to business
What hard-piping a brewery means and why it conserves water
The rise in popularity of hoppy beers and why those hoppy beers are very water intensive to brew
The water footprint of a glass of New Belgium beer
The importance of water quality to the brewing process
The factors New Belgium considered when siting its second brewery and the location of that second brewery
The water-saving processes New Belgium has implemented in its brewery
New Belgium's waste water treatment process and its place in the water-energy nexus
New Belgium's water philanthropy and activism
Resources and Links Mentioned in this Session Include:
Transcript
Click here to download the Transcript for Session 3 of The Water Values Podcast
Thank You!
Thank you to so many people for helping get The Water Values Podcast off the ground! Your help and encouragement has been instrumental in this endeavor!