Podcast: Play in new window | Download
Subscribe: Apple Podcasts | Android | RSS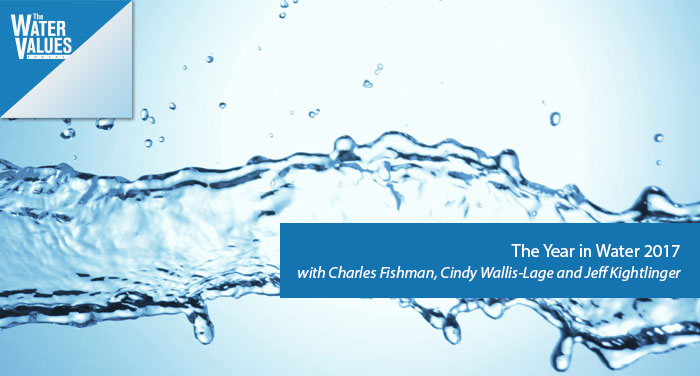 A little something different for this year's wrap-up. Rather than a monologue by me, I decided to pull in some water leaders and have a virtual panel about a remarkable year in water. Charles Fishman, Cindy Wallis-Lage and Jeffrey Kightlinger join the virtual panel to discuss a wide range of water issues from 2017 and offer their prognosis on water in 2018. Take a listen!
In this session, you'll learn about:
Each panelist's thoughts on the big issues in water in 2017
How water issues are interrelated and entangled with everything from climate change to land planning to infrastructure development
Water supply volatility and how utilities deal with it
Public education and what's needed to enhance it
Each panelist's thoughts on what 2018 portends in the water industry
Resources and links mentioned in or relevant to this session include:
Thank You!
Thanks to each of you for listening and spreading the word about The Water Values Podcast!  Keep the emails coming and please rate and review The Water Values Podcast on iTunes and Stitcher if you haven't done so already. And don't forget to tell your friends about the podcast and whatever you do, don't forget to join The Water Values mailing list!